2021 Fall & 2022 Winter Construction Management Career Fair Insights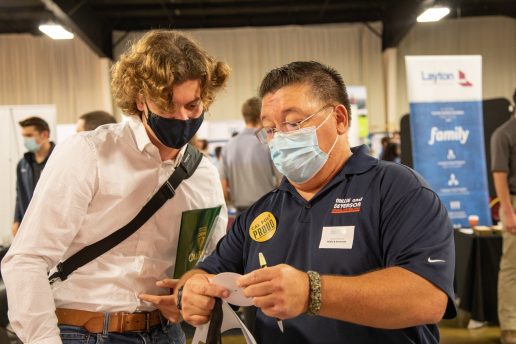 After a year of virtual recruitment activities and two virtual career fairs, the California Center for Construction Education (CCCE) has now hosted both the Cal Poly Construction Management Fall 2021 and Winter 2022 Career Fairs. During both fairs, over one hundred companies from various parts of the country came to the Alex Madonna Expo Center in San Luis Obispo, California to network with and interview over six hundred eager Cal Poly students.
The benefits of having in-person recruitment opportunities again were clear to see after these events. Students participating showed great enthusiasm towards interviewing for job opportunities and networking with construction management companies. With a wide variety of students joining, a slight majority of upperclassmen participated in search of full-time and internship positions. The student feedback after the career fair was incredibly positive, with reports of successful interviews and high success rates.
Students were not the only ones who were happy with the outcome, as company feedback reported high levels of satisfaction with student preparation, networking connections, and overall outcome. These career fairs exceeded expectations, resulting in both students and recruiters feeling successful in their career endeavors afterward.
A special thanks goes to Rachell Smith, CCCE Program Manager and Event Director and Planner, and her team of CCCE Ambassadors and student volunteers to help make this event as outstanding as possible.
---
Testimonials
---
Success by Numbers
Download the CCCE's Construction Management Fall 2021 Overview & Insights here.